Your Transition, Your Rules
When the decision is made for you to leave active duty, whether it's your choice or another's, you have decisions to make and options to explore. You may have one year or one month to gather your thoughts, assess your skills and finances, decide where you'll live, and what you'll do. You might feel confused, overwhelmed, frustrated, or even scared! It doesn't have to be that way. You're in control. You just have to realize it. The next step you take will determine the amount of stress you carry out the gate. So which step and in what direction? Start with your local Transition Readiness Branch.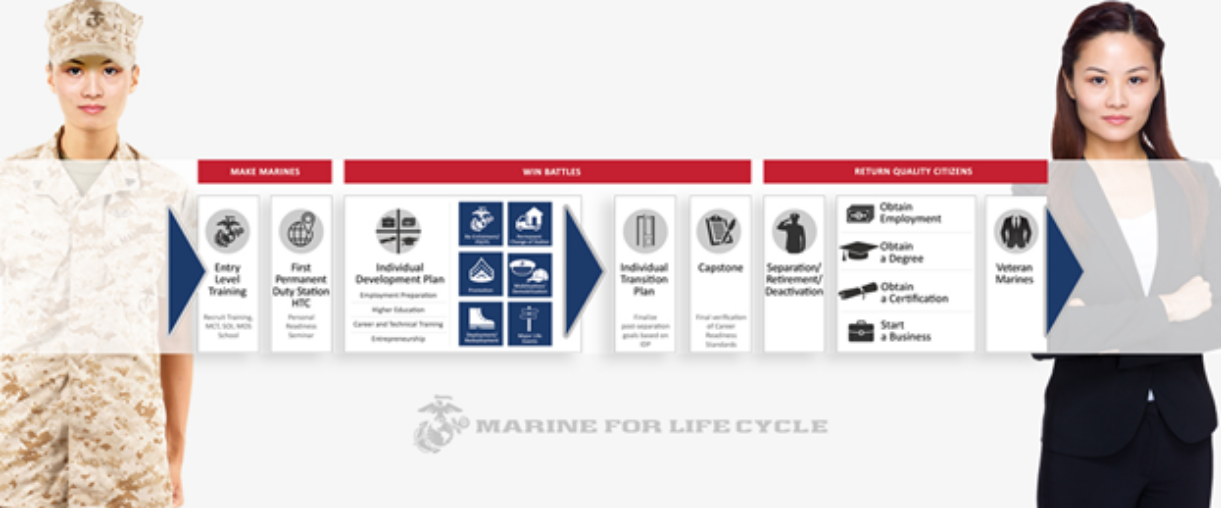 You will find a diverse group of individuals with an immense amount of experience waiting for you to step into their office. They have worked in the civilian world, taught college classes, consulted families on financial matters, and helped spouses find portable and meaningful careers. They've even just sat and listened to your concerns, then provided a phone number or a person to contact. Even if you have a solid transition plan, there still might be key details you should consider. Having someone validate your plan is nice too! Your Transition is not just a check in the box. It's the start of a new chapter. It's returning quality citizens to the civilian workforce, a college campus, or out to start a new business venture.
Just as you have earned the title, United States Marine, you earned the benefit of being supported during your transition by world class experts. Take full advantage of your earned benefit just like thousands of Marines before you. Start the conversation 18-24 months from your EAS or Retirement date. The Transition Readiness Branch can put you in contact with your Unit Transition Coordinator (UTC). This is the individual at the unit who will track your progress and ensure you have the time and support to receive Initial Counseling, PreSeparation Counseling, and time to attend the Transition Readiness Seminar.
Own your transition. Visit Transition - Marine Corps Community (usmc-mccs.org) and download the interactive Personal Transition Timeline. You can type in your EAS date to see what needs to be done and when. Have you reviewed your Joint Service Transcript to see how many potential credits you might be able to use in school? Go to Home page (doded.mil) and get logged in. Reach out to the university or institution to discuss how you can transfer your transcript to their office. Have you searched your MOS on the Marine Corps COOL website to see what credentials are available for you to pursue? Click here Marine Corps COOL - Search for Credentials (osd.mil) to find out. Depending on your timeline, you may be able to see what apprenticeship trades are related to your primary duties based on your MOS, research that here USMAP (osd.mil). SkillBridge! Have you heard this word around the shop floor? Contact your local Transition Readiness Branch to see what information is available. They may provide information sessions, or points of contact. It can be a process and you need your command's support, so do not waste time and do your research. You can start by looking up programs that are DOD approved here DOD SkillBridge (osd.mil). Regardless of your plan to separate, reenlist, or transfer to another branch of service, going through the Transition process does not mean you're quitting; it just means you're educating yourself on the options. In the long run, it will make you a better leader and ultimately better prepared. So, let's go. Take the first step by taking full advantage of your earned benefits. You're going to be great. See you out there.
About the Author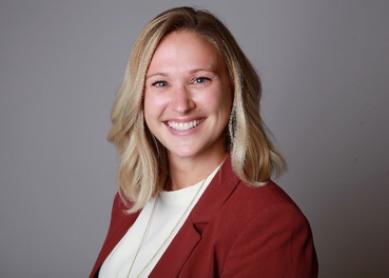 Danelle started with Marine Corps Community Services (MCCS) in July 2012 with the Personal and Professional Development (P&PD) Program, Marine and Family Programs Division. From July 2012-February 2023, Danelle served in multiple roles for the Transition Readiness Branch. She was a P&PD Technician, Advisor, and Supervisor. Danelle oversaw the day-to-day operations for the Transition Readiness Program, Family Member Employment Assistance Program, Personal Financial Management Program, Information and Referral, and SkillBridge for Camp Lejeune and MCAS New River. Currently Danelle serves as the Human Resources Specialist Supervisor for the Training and Development Branch, Human Resources Division. Prior to MCCS, Danelle was a hotel General Manager, and a high school French Teacher.
Danelle earned a Master of Education degree in Training and Development from North Carolina State University, and a Bachelor of Arts degree in French Adolescent Education from the State University of New York at Cortland. She is credentialed as a Certified Workforce Development Professional, Global Career Development Facilitator, and Certified Career Services Provider.