MCX Patrons Raise Half a Million Dollars
Since 1904, the Navy-Marine Corps Relief Society (NMCRS) has provided financial assistance and education to active duty and retired members of the United States Navy and Marine Corps, their eligible family members, and survivors – when in financial need. Annually Marine Corps Exchange (MCX) patrons can support the NMCRS by purchasing a five-dollar benefit ticket at participating locations. The purchase of the five-dollar benefit ticket entitles customers to five dollar off, and a five percent discount, applied to a one time in-store purchase. Since 2011, MCX and Navy Exchange (NEX) patrons have donated over five million to the NMCRS.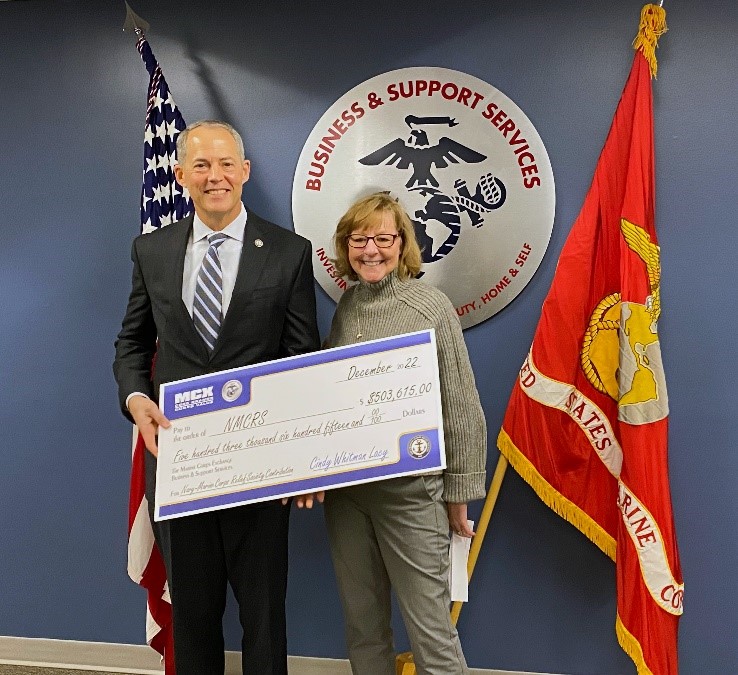 The MCX conducted two campaigns to support the NMCRS between April 3, 2022 – May 7, 2022, and October 11, 2022 – November 5, 2022. The MCX achieved a forty-five point 7 percent increase in contributions compared to 2021. MCXs across the Marine Corps were instrumental in executing the campaigns resulting in fantastic results for a great cause. Top three Marine Corps Installations included:
• Marine Corps Base Camp Lejeune $114,800 (22.8% to total)
• Marine Corps Base Camp Pendleton $78,355 (15.6% to total)
• Marine Air Ground Task Force Training Command and Marine Corps Air Ground Combat Center – Twenty-Nine Palms $63,180 (12.5% to total)
On December 12, 2022, Cindy Whitman Lacy, CEO/Director, Marine Corps Community Services - Business and Support Division, Headquarters, United States Marine Corps, presented LtGen (Retired) Ruark, President, and CEO, NMCRS, with a big check in the amount of $503,615. LtGen (Ret) Ruark shared that the funds contributed by MCX customers will go directly to loans and grants to help Marines, Sailors, and their families during these unprecedented economically challenging times.