Meet Senior Enlisted Advisor, Business & Support Services (MR), MCCS, M&RA, Headquarters Marine Corps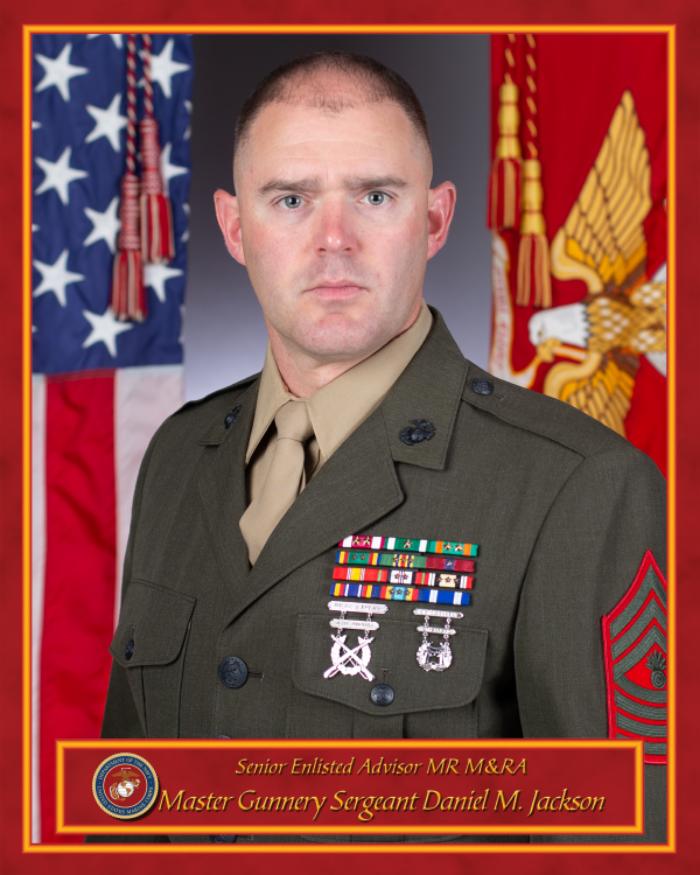 Master Gunnery Sergeant (MGySgt) Daniel M. Jackson was born in Erie, Pennsylvania. He graduated from Central High School in Erie, PA in 1998. After graduation, MGySgt Jackson enlisted in the United States Marine Corps and attended boot camp at Marine Corps Recruit Depot, Paris Island, 2nd Battalion, Fox Co, Platoon 2029 in January 1999.

Upon graduation, Private Jackson attended Marine Combat Training (MCT) at Camp Geiger, North Carolina. Upon completion, Private Jackson reported to Fort Leonard Wood, MO where he attended Military Occupational Skills (MOS) School, Motor Transport Operator (MOS) 3531 and furthered his technical skill by attending the Logistics System Operator (MOS) 3533 from May 1999 to August 1999.

In August 1999, Private First Class Jackson reported to his first permanent duty station, 2D FSSG, 8th Motor Battalion, Charlie Co, Camp Lejeune, NC. He served there until 1 February 2000, at this time 8th Motors Battalion and Logistics Support Battalion merged into 2nd Transportation Support Battalion.

In March 2000, PFC Jackson deployed in support of Exercise Dynamic Mix 2000 to Greece as a Motor Transportation Operator and was promoted to LCpl while deployed.
In May 2000, Lance Corporal Jackson returned from the exercise and was assigned as the Company Quality Control NCO until 15 March 2001. While there, LCpl Jackson was promoted to Corporal and attended Corporal's Course at Camp Johnson, NC in April 2001.
Upon returning, he was reassigned as the Company Training NCO for Charlie Co, 2nd TSB, 2nd FSSG from June 2001 to 22 November 2002. During this time he was promoted to the rank of Sgt.

In November 2002, Sergeant Jackson transitioned out of the Marine Corps and went on terminal leave. From 25 January 2003 to 20 August 2005, Daniel Jackson was a youth counselor for court adjudicated youth at a placement facility near Pittsburgh, PA.
In August 2005, Sergeant Jackson reenlisted in the United States Marine Corps at RS Pittsburgh, PA. Sgt. Jackson served as a Recruiter's Aid until November 2005. During this time, Sgt. Jackson completed a LAT move to the Morale, Welfare, and Recreation (MOS) 4133.

In December 2005, Sgt Jackson reported for duty at 1st FSSG CLR-17, Camp Pendleton, CA. He initiated his on the job training and was quickly deployed to Iraq in January 2006 in support of Operation Iraqi Freedom. While deployed in Iraq, Sgt Jackson served as Direct Operating Exchange Manager in Camp Fallujah.

In September 2006, Sgt Jackson returned from Iraq. He served as Marine Mart Store Manager until 12 February 2008; during this time, he was promoted to Staff Sergeant. SSgt Jackson once again deployed to Iraqi and was assigned as the Warehouse Manager in Al Asad, Iraq for a one year deployment in 2008 returning February 2009. From February 2009 through August 2009 SSgt Jackson was the store manager of the San Onofre Exchange Camp Pendleton, Ca.
In August 2009, SSgt Jackson reported to CLR-35, CLC-36, Iwakuni, Japan to serve as the Retail Chief. SSgt Jackson deployed in January 2012 to Thailand in support of Exercise Cobra Gold 2010.

In May 2010, he was promoted to the rank of Gunnery Sergeant after being selected from the below zone, ahead of his peers.
In March 2011, GySgt Jackson deployed to Afghanistan where he served as the Retail and Services Chief in Camp Leatherneck in support of Operation Enduring Freedom through Sept 2011.

In January 2012, GySgt Jackson attended the SNCO Academy Okinawa, Japan and completed the Resident Advanced Course. Upon return to Iwakuni, GySgt Jackson was assigned as the Interim Chief of Retail and Services.

In June 2012, GySgt Jackson completed a PCS move to Quantico, VA where he served as the MCCS Operations Chief for H&S Bn, MCB Quantico and work as the assistant store manager at the main exchange.

In November 2012, GySgt Jackson commenced PCA orders to Henderson Hall, VA where he served as the MCCS Operations Chief/SNCOIC for H&S Bn HH. During his time here he was deeply involved in the High Intensity Tactical Training (HITT) Program and opened the HITT center at Henderson Hall.

In August 2013, GySgt Jackson received PCA orders back to Quantico, VA. During this time GySgt Jackson was promoted to the rank of Master Sergeant, once again after being selected from the below zone. MSgt Jackson served in multiple assignments ranging from Retail Operations Chief, Food and Hospitality Chief and the Chief Operating Officer for Business Operations and Director of Commercial Recreation Activities. GySgt Jackson also served as the vice chairman to the HITT Advisory Committee and assisted in developing the program to the Marine Corps.

In August 2016, MSgt Jackson received PCA orders to HQMC to serve as the 4100 Occupational Field Trainer at Business and Support Services (MR) and Services Chief. Here he was responsible for the training, education, and career progression for his MOS. Additionally, he was assigned as the Contracting Officer's Representative (COR) for several enterprise-wide contracts. Here, is also carried the collateral duties within the HITT program.
In March 2017, MSgt Jackson was promoted (frocked) to the rank of Master Gunnery Sergeant and reported to Headquarters and Support Battalion, Camp Lejeune, NC for duty as the Marine Corps Community Services Operations Chef/Staff Non-Commissioned Officer in charge.
In August 2020, MGySgt Jackson received orders to report to Combat Logistics Regiment 17, Camp Pendleton and a category one Fleet Assistance Program (FAP) to Headquarters and Support Battalion, Camp Pendleton, CA for duty as the Marine Corps Community Services Operations Chief.

In April 2022, MGySgt Jackson took on his current assignment as the Senior Enlisted Advisor, MR with Manpower and Reserve Affairs, Headquarters Marine Corps, Marine Corps Community Services. Additional he serves as the Enlisted Occupational Field Sponsor for the 4133 Field.

MGySgt Jackson has been married to Lesley C. Jackson of Erie, Pennsylvania for twenty four years. They have two children, Austin (25) and Kyrstin (21). His son Austin serves as a Cpl in the Marine Corps and his daughter is on her fourth year attending the University of North Carolina Charlotte.

MGySgt Jackson's personal awards include the Meritorious Service Medal with two gold stars in lieu of third award, Navy and Marine Corps Commendation Medal with one gold star in lieu of second award, Navy and Marine Corps Achievement Medal with two gold stars in lieu of third award.